Keeping the records needed for calculating rolling average milk production is easy in QuickBooks. It does not, however, provide the necessary reports--for that you'll need the ManagePLUS for QuickBooks add-on. This article describes how to set up and use QuickBooks along with ManagePLUS for reporting monthly average and twelve-month rolling average milk production, based on actual milk sales.
Overview
The most important step is setting up a main (parent) class for the milk sales portion of your dairy enterprise, plus twelve subclasses to represent the months of the year. As you enter each milk check you assign the appropriate month's subclass.
Before generating reports, you update ManagePLUS with the number of cows in your herd during the most recent month. (ManagePLUS provides space for this in the Class list). You also enter the average number of cows in the herd for the entire twelve-month period covered by the report.
Finally, you can prepare the report by filtering it to include only transactions for the most recent twelve months. This is what allows the report to provide a rolling average: it is always based on the most recent twelve months of production.
Accounts
No special setup is required for accounts. However, for this example we'll assume milk income is posted to a subaccount of Sales, called Milk Sales:
---
Setting Up Classes
How you set up and use classes is the key to getting reports of monthly average milk production, and also determines how easily you'll be able to calculate a rolling average.
QuickBooks: Set up your class list with a section like the following. The class names you use may be different, but you at least need (1) a parent class which represents milk production in your dairy enterprise, and (2) twelve subclasses--one for each month of the year. (Note that the parent class does not have to be a top-level class: it may be a subclass of some other parent class.)
Milk

Jan
Feb
Mar
Apr
May
Jun
Jul
Aug
Sep
Oct
Nov
Dec
---
Entering Milk Sales Income
Each time you enter a milk check, assign a class representing the appropriate production month. This will allow ManagePLUS to provide monthly average production statistics when you generate reports.
QuickBooks: The following example shows entry of a milk check, and deductions as a cash sale. The income will be posted to the Milk Sales account, because the Milk Sales item is associated with that account (this is done in the Item setup window). Also, the Milk:Sep class has been assigned to this transaction, to tag it as part of September's production.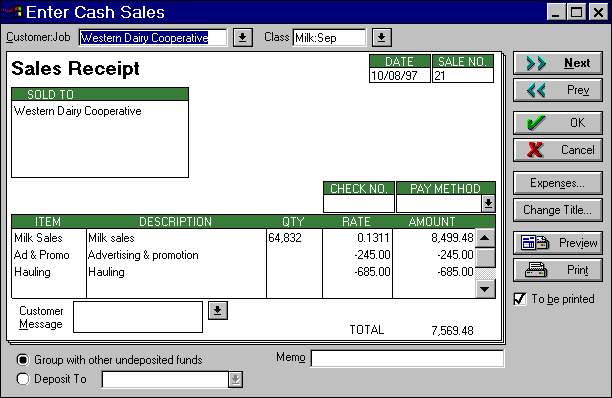 ---
Updating Cow Numbers & Other Information
A couple steps are necessary prior to getting milk production reports.
First, you import a copy of your QuickBooks lists (Accounts and Classes) and transactions into ManagePLUS. (ManagePLUS automates the process--it mostly involves selecting a few menu choices.)
Second, you associate some information with your accounts and classes in ManagePLUS, as described below.
Accounts: Assigning a Unit of Measure
ManagePLUS gathers and reports quantity information only for accounts to which you have assigned a unit of measure. So you need to assign one to the account which represents milk sales income. You do this in ManagePLUS, not in QuickBooks, and should only need to do it once--ManagePLUS retains what you've entered, unless you change the account name.
Here's part of the ManagePLUS Accounts window showing that "lbs." (pounds) has been entered as a unit of measure for the Sales:Milk Sales account (the line is highlighted in yellow in the illustration).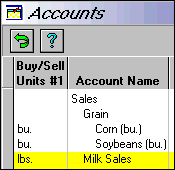 ManagePLUS lets you assign any unit of measure you want--hundredweight, kilograms, or whatever.
Classes: Updating Cow Numbers
ManagePLUS lets you associate units of production with individual classes. This is what allows ManagePLUS reports to provide per-unit (per-cow, in this case) statistics. This is a critical step; something you'll always need to do before generating a report of monthly production and a rolling averages.
For each subclass representing a month's milk sales (Jan, Feb, Mar, etc.) you enter the average number of cows in the herd during that month.

For the parent class, Milk, you enter the average number of cows in the herd over all of the months represented by your transactions--usually the most recent twelve month period, to calculate a twelve-month rolling average.
Here's an example showing the ManagePLUS Class list with the monthly and twelve-month average cow herd numbers in place: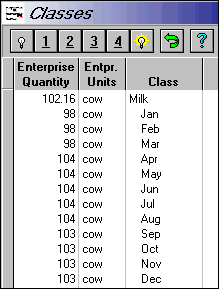 Maintaining these numbers in ManagePLUS is easy. Each month you just enter a new number for the lead month (the most recent month)--cow numbers for the other months don't change. Then you update the average number of cows for the entire (usually twelve-month) period, by changing the number associated with the Milk class.
For example, suppose you've just finished entering the last milk check for July. Before printing a twelve-month rolling average report which includes July's production, you update the number of cows for the Milk:Jul class, and leave the other month's numbers alone. Then, you update the number of cows associated with the Milk parent class. (Use a calculator to add up the cow numbers associated with each of the twelve months' subclasses, and divide by twelve.)
IMPORTANT! Remember to update the number of cows associated with the parent class (Milk in this example) whenever you change cow numbers associated with an individual month. If you forget this, your monthly numbers (and monthly production statistics) may be correct but the rolling average won't be--it will be based on the wrong number of cows.
---
Getting Reports
With your transactions imported into ManagePLUS and the updated cow numbers in place in the Class list, you're ready to generate the report. The ManagePLUS Profit & Loss report will provide the best view of the rolling average statistics.
In ManagePLUS, choose Reports | Profit and Loss from the main menu.
The Print Control window will open.

In the Print Control window click on the Filters button.
The Report Filters window will open.

In the Report Filters window, choose the Selected Dates option.

Enter the desired date range in the From and To boxes.

This is a critical step...be sure you understand it!

Milk checks are often entered during a month other than the production month they represent. Said differently, a transaction's date has nothing to do with the "month" subclass you may have assigned. So specifying a date range of, for example, 09/01/97 to 08/31/98 may not represent milk production from September '97 through August '98. Some transactions entered during September '97 may be for August '97 milk sales. Because the class structure (the "month" subclasses) does not specify the production year, those August '97 entries will be included in August '98 production on your reports!

Note: you can bypass this problem by adding yet another subclass level representing the production year. However, doing this somewhat complicates both transaction entry and report generation.

Click OK to close the Report Filters window and return to the Print Control window.

Click on either the Print button or the Preview button to print or preview the report.
Here's the part of the report dealing with milk sales: