The new ManagePLUS for QuickBooks™ is now available for public testing!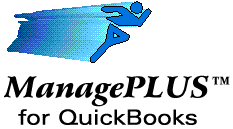 Some of you have waited a long time for a new release of ManagePLUS for QuickBooks, and it gives us great pleasure to tell you that it's finally here!...well, almost.

A pre-release version of ManagePLUS for QuickBooks, version 2, is now available for public testing.

The new ManagePLUS is not in "final form" yet...there's still a lot to do. For instance, there's no Help system yet and some of the reports are not yet available. But the pre-release version is a full-working copy of ManagePLUS, with a substantial part of the features we expect to release in the commercial version.

"Why have a pre-release version?" We felt it important to get ManagePLUS out early to some of you who will be using the product, to get your comments and impressions as ManagePLUS moves toward its full commercial release. Also, a public testing period will help iron out any remaining problems and bugs before ManagePLUS is released to a wider audience.

What to give ManagePLUS a try? Start at the ManagePLUS home page on our Web site. It has a Tester's Questions & Answers section that will help you get started. Or, ou can also go directly to the ManagePLUS Downloads page, but please don't miss the ManagePLUS supporting information pages, as described below.

By the way in case you're wondering, this announcement is being made only to our newsletter subscribers. While anyone may download and try ManagePLUS during the test period, you're getting the news first...which means you'll have the first opportunity to tell us what you think!

Web Site Changes for the New ManagePLUS

Over the next few weeks we will be entirely reworking the ManagePLUS-related areas of our Web site. At the moment many pages have an "UNDER CONSTRUCTION" message on them. When you see that, it means the page is currently a "place holder" for more information to come.

We ask for your patience, as this area of our Web site will be undergoing many changes in a short period of time.

Not all of the new pages under construction, though. Some "have their sleeves rolled up" and are already hard at work. The new ManagePLUS Videos & Tutorials Library already contains Flash movies describing the new ManagePLUS. These videos are especially important right now, since the pre-release version of ManagePLUS has no Help system.
Until more documentation (Help, videos, etc.) is available, we will be leaving the old ManagePLUS for QuickBooks version 1 pages on our Web site. Those are useful for getting details about the concepts involved in ManagePLUS, most of which apply fully to the new version.
We have even added more ManagePLUS version 1 information on our site. The complete ManagePLUS User's Guide (for version 1) is now available as a .PDF file download from the ManagePLUS Downloads page.
But what will ManagePLUS Cost?
This is an obvious question, but we cannot yet provide a firm answer. Pricing won't be announced until the commercial release is imminent, which may be within a few weeks. Here's what we can tell you:
ManagePLUS licenses bought during the early-bird buying period (about the first 90 days after ManagePLUS is released for sale) will qualify for a significant discount.

Anyone who holds a license for another Flagship Technologies software product (FormCalc, Catch Weights, or the old ManagePLUS version 1) will qualify for an additional discount during the early-bird buying period--even more than other early bird buyers.