Contact

Mark Wilsdorf
660-291-3000
Email

Flagship Technologies'
Web site:
www.goflagship.com
 

Product Links
To Change or Stop Receiving News Releases from Us
You may change the type of news releases you receive from us, or stop receiving them altogether by using the link at the bottom of this email to go to your personal list management page.

Or visit our general list management page at: www.goflagship.com/
listspr/

If you have any questions or problems with this list please email us at: info@goflagship.com
  

 
ManagePLUS Gold™ Supports QuickBooks Classes as Cost Centers and Profit Centers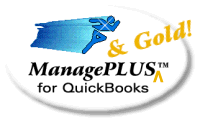 MADISON, MO.,  September 1, 2011 - ManagePLUS Gold™ 3.0 for QuickBooks is a Microsoft Windows-compatible add-on for the popular QuickBooks accounting program. This new ManagePLUS version adds a set of features not available in any other QuickBooks add-on: full support for cost accounting based on using QuickBooks classes as cost centers and profit centers.
The Classes list gives QuickBooks users a way to relate transactions to specific departments or areas of the business, like Office and Administration, Manufacturing, or Packing & Shipping. But by itself QuickBooks can only provide provide income and expense totals for classes, and QuickBooks users have longed for a way to use the Classes feature for true cost accounting. That means being able to identify classes as cost centers and profit centers, allocate costs from cost centers to profit centers, and get class-specific profit and loss reports which include the allocated amounts.
ManagePLUS Gold 3.0 delivers all of these cost accounting capabilities, with the following features:
The ability to mark QuickBooks classes as cost centers or profit centers.

Easy allocation from cost centers to profit centers, via a simple drag-and-drop interface.

Allocations can be based on user-entered percentages or on "management quantities" associated with the target classes, such as labor hours used, miles driven, tons/gallons/bushels produced, etc.

Allocations "cascade" to all affected classes. So if class A gets partly allocated to class B, B to C, and C to D, then class A will have contributed to the amount allocated to D.

Allocations recalculate instantly, for immediate feedback on the target classes will be affected.

Once allocation formulas (percentages, etc.) have been set up, they can be automatically reused in subsequent accounting periods/years, until changed.

Account balances can be assigned to classes using the same approach. This means income and expense balances can be split among classes at the end of an accounting period, without entering any QuickBooks transactions, and without Journal entries nor any need to understand debits and credits.

A special Profit Analysis report type shows income and expense amounts assigned directly to a class, as well as allocated amounts, in separate report sections.

Lots of "little things" add ease of use and flexibility: color coding of cost centers and profit centers in windows and on reports, constantly updated allocation statistics, exporting to Microsoft Excel, and more.
ManagePLUS Gold is a new advanced-feature version of the existing ManagePLUS for QuickBooks software product. It adds cost accounting capabilities to the solid base of features found in ManagePLUS, including support for entering two quantities in QuickBooks transactions (i.e., weight and count), quantity math, automatic quantity statistics, per-unit information (average selling or purchase price per pound/ton/each, etc.) and unit-of-measure labeling on reports, and many others.
The goal of ManagePLUS and ManagePLUS Gold is to provide as much management information as possible, with the least effort, wherever classes are used in QuickBooks transactions. ManagePLUS Gold is a valuable addition in any business that uses the Classes feature of QuickBooks.
Quick facts...
Pricing:
ManagePLUS Gold
ManagePLUS

$229 (US) per single-user license.
$129 (US) per single-user license.
* Reduced-price upgrades are available to current ManagePLUS users.

Supported QuickBooks versions:
U.S. Pro or Premier editions of QuickBooks 2003 and later, and QuickBooks Enterprise Solutions 3.0 or higher.
UK QuickBooks 2004 or later.
Canadian QuickBooks 2004 or later. 

System requirements:
Microsoft Windows XP or later.
15 mb. hard drive space.
Any computer which can run the above QuickBooks versions can run ManagePLUS. 

Free trial version:
An unrestricted 30-day free trial version can be downloaded from: http://www.goflagship.com/dnloads/mpdownld.htm or can be purchased on CD for a nominal fee.

Web page:
http://www.goflagship.com/products/mphome.htm
 
Documentation and support
A complete Help system installs with the software.
Printable manual available for free download.
Web-based articles and videos.
User support is by email, and Web-based user forums.
 

About the company:  Flagship Technologies, Inc. is a developer of QuickBooks add-on and enhancement software, as well as a publisher of books and training materials for QuickBooks, managerial accounting, and related topics. The company has been in business since 1994.
# # #
Flagship Technologies, Inc.
14976 Monroe Road 1039
Madison, Missouri  65263
United States of America

Phone: 660-291-3000
www.goflagship.com