The QuickBooks Farm Accounting Cookbook™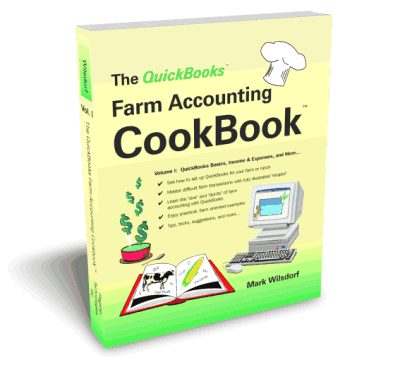 The QuickBooks Farm Accounting Cookbook™ is a 370-page how-to guide and reference for anyone who uses the QuickBooks software in agriculture: farmers, ranchers, accountants, tax preparers, extension personnel, and teachers and students of vocational agriculture.
This book has nothing to do with cooking! The name Cookbook comes from how the book presents transaction examples: each example is a self-contained description of what you need to know about entering a certain type of transaction, much like a recipe describes the ingredients and steps for making a cake. Why this arrangement? It lets you find answers to your accounting questions quickly...without the need to read several chapters for background information.
"I keep borrowing this book from my mother-in-law...it's time I owned my own copy. Very good for all levels of QB users :)"

D. Parrott - Danville, IA
Author Mark Wilsdorf has worked with agricultural software and accounting since the 1980s, as editor of AgriComp magazine, as a farm computing columnist for Doane's Agricultural Computing newsletter, as a developer of software and training programs for the University of Missouri Extension Service, and now as president of Flagship Technologies, Inc., where he remains involved with QuickBooks-related agricultural software development and training.
---
Features & Information
---
Have a Look Inside!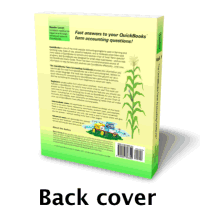 Here are samples of the Cookbook's pages to give you a look at the Cookbook's writing style and illustrations.
These files contain copyrighted material, © Flagship Technologies, Inc., 1999. All rights reserved. They are provided for viewing by individuals only. Duplication, distribution, or use for any commercial or educational purpose without express written permission from Flagship Technologies, Inc. is prohibited.

---
To Get Your Copy...
---
Now available as an E-Book Too!
In addition to a print version, the Cookbook is also available as an e-book for viewing on Microsoft Windows computers. (Sorry, other e-book formats and/or systems currently are not supported.)
As a reference guide the e-book version may not be as "handy" as having the print version laying open on the desk beside your computer. But the e-book's installer is a software download, and when you purchase the e-book we send your Activation Key by email, so no shipping cost is involved. This makes the e-book the better choice for our overseas customers (for whom shipping costs are prohibitive for a physical book), or for anyone who prefers the convenience of an e-book.
Another advantage compared to the print version, is that screenshots in the e-book are in color!
Click here for details about getting, installing, and registering the e-book version, including a link for downloading the e-book installer.

---
Save Shipping Charges...
Order the Cookbook and its new companion book together!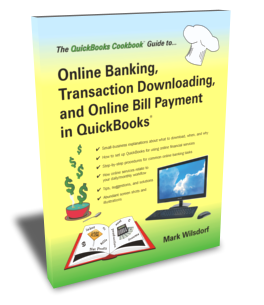 Online Banking, Transaction Downloading, and Online Bill Payment in QuickBooks, by Mark Wilsdorf, 105 pages, is a new companion to The QuickBooks Farm Accounting Cookbook™.
Published in 2013, this is the first "upgrade" to the Cookbook series in a long time. It contains all new material and will be valuable to anyone who wants to use the online financial services features of QuickBooks...online banking, downloading bank and credit card transactions, sending electronic transactions, or paying bills online.
Ordering the 2-book set gets you both books, at a discount, for just one shipping charge!