| | | |
| --- | --- | --- |
| Try it FREE for 30 days! | | Pricing & purchase |

Catch Weights™ for QuickBooks
Catch Weights™ is a QuickBooks add-on program which lets you enter individual catch weights, then adds them in the Description column on the current line of an Invoice or Sales Receipt, and inserts the total weight in the Quantity column on that line.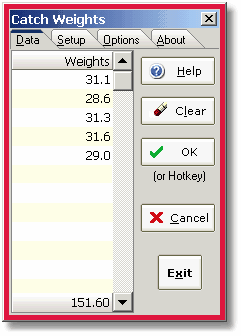 Catch Weights™ gives you:
❖Multiple individual weights (catch weights) displayed on a QuickBooks invoice line.
❖A total weight, automatically calculated from the individual weights.
❖Works with all QuickBooks desktop editions for Microsoft Windows, even older versions.
❖Works with U.S. and non-U.S. versions of QuickBooks: U.S., UK, Canadian, Australian.
Catch Weights™ pops up over your QuickBooks sales form at the press of a hotkey (the F11 key by default), where it lets you enter individual catch weights. When you're done, it writes the individual weights and a total weight on the form:

| | |
| --- | --- |
| Try it FREE for 30 days! | Pricing & purchase |
| | | |
| --- | --- | --- |
| Try it FREE for 30 days! | | Pricing & purchase |
Copyright © 1995-2021 Flagship Technologies, Inc. All rights reserved. Contact: info@goflagship.com