QuickBooks© Add-ons
and Solutions You Can Use

---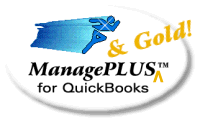 ManagePLUS and ManagePLUS Gold are QuickBooks-compatible software for management information, reporting, special quantity handling for QuickBooks transactions, and more.
ManagePLUS gives you reports with per-unit revenue and cost information...things like fuel & maintenance costs per mile driven by trucks in a fleet, input costs per acre of corn production, etc. The expanded quantity handling and reporting it offers--including support for having two quantities in QuickBooks transactions--is something you won't find in anywhere else!
ManagePLUS Gold has these same features, plus it adds cost accounting support. It gives you easy drag-and-drop allocation of income and expense to classes identified as cost centers and profit centers, and special profit analysis reports.

Don't miss the ManagePLUS Videos Library!


and...

These are QuickBooks add-ons which give you the ability to do calculations on QuickBooks forms such as Invoices, Sales Receipts, Estimates, Sales Orders, Purchase Orders, etc.
FormCalc gives you calculated columns, column totals and subtotals, unique-item counts, and other calculations.

FormCalc SST is the the newer, bigger, more powerful brother of FormCalc. It gives you the full power of a Microsoft Excel-like spreadsheet to do a much wider range of calculations, including date math, text functions, statistical functions, and all the rest.
You can visit the FormCalc or FormCalc SST product pages to learn more....or go to directly to a comparison chart for the two products.





The QuickBooks
Farm Accounting Cookbook™

The QuickBooks Farm Accounting Cookbook™ is a 370-page printed book for QuickBooks users in agriculture. This step-by-step guide and reference book is written specifically for farmers and ranchers, and provides information about setting up QuickBooks for farm accounting (accounts, enterprise classes, etc.), plus loads of transaction examples—all of them agricultural!
Available as a print edition and as an e-book!


Online Banking,
Transaction Downloading,
and Online Bill Payment
in QuickBooks

Online Banking, Transaction Downloading, and Online Bill Payment in QuickBooks is a 105-page book about using online financial services in QuickBooks. Written for people who use QuickBooks day-to-day in a small business, it guides readers through setting up and using online banking and other online financial services in QuickBooks with step-by-step procedures and abundant screenshots.
Currently available as a print edition only.

Catch Weights™ for QuickBooks
Catch Weights is add-on software for QuickBooks users in the food wholesaling industries. It allows entering a list of catch weights--multiple individual weights--on any line of a QuickBooks Invoice or Sales Receipt form, then writes the total weight in the Quantity column and adds the list of individual weights to the Description column.
A FREE trial version of Catch Weights is available. It works with most Microsoft Windows versions of QuickBooks, including most older versions and most non-U.S. versions.
The Catch Weights video

shows what it's all about.
---
Got a question about QuickBooks, farm accounting, or ManagePLUS? Post your question in one of our forums, or browse the questions & answers posted by others—you'll find answers to many common questions posted there already.

Go to the Forum Topics List...

---
| | |
| --- | --- |
| | FREE articles and tutorials about accounting with QuickBooks, using our QuickBooks add-on software products, and related topics. The main articles page includes a blanket permission to copy and reuse the articles for non-commercial educational use. |